Provenance and Timeline of the EU Cloud Code of Conduct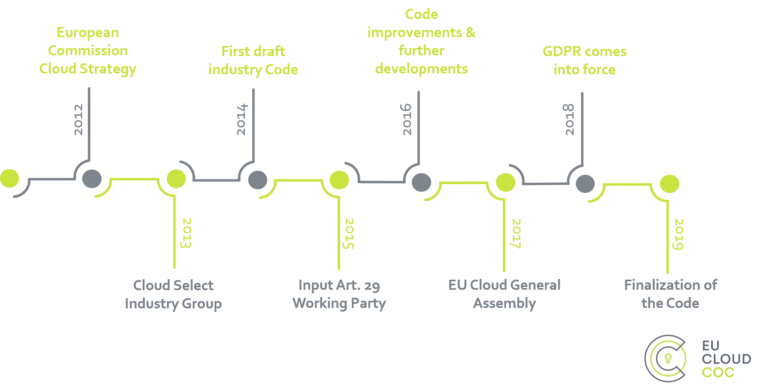 The EU Cloud Code of Conduct is the only Code which was drafted together with authorities of the European Union. The Code was developed in four years of collaboration between the European Commission, represented by DG Connect, and the cloud computing community, including industry. Furthermore, the involvement and advice of DG Justice and input by the Article 29 Working Party, which represents national Data Protection Authorities, contributed to the high level of expertise manifested in the Code.
Founded in February 2017 by the Alibaba Cloud, Fabasoft, IBM, Oracle, Salesforce and SAP, the General Assembly grew steadily and welcomed new members including Cisco, Google Cloud, TrustArc and Workday. We are also proud to have welcomed the Cloud Industry Forum as a supporter of the EU Cloud Code of Conduct.
After extensive revision of the Code, the EU Cloud Code of Conduct General Assembly published in April 2019 a revised Code version. This version received official approval by the Belgian Data Protection Authority in May 2021. Based on input by supervisory authorities and the recently published Guidelines on Codes of Conduct and Monitoring Bodies by the European Data Protection Board, the Code has been further enhanced to ensure a robust level of data protection and transparency, complemented by an independent monitoring function.